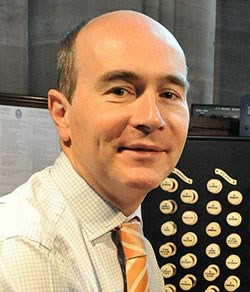 Peter Dyke was born in Hertfordshire in 1965. In 1983 he took up the organ scholarship at the then newly-founded Robinson College, Cambridge, and he obtained his FRCO in 1987. He was organist of St Helen's Church, Wheathampstead, for five years before being appointed assistant organist at St Woolos Cathedral, Newport, in 1992. In 1995 he moved to St Albans Cathedral as organ scholar, and in 1998 he took up his current post as assistant organist of Hereford Cathedral, and accompanist to Hereford Choral Society.
Recitals and concert tours have taken him across Britain, Ireland, Europeand North America, and in 1993 he was awarded second prize in the interpretation competition at the prestigious St Albans International Organ Festival. His first solo CD, of music from Bach's Clavierübung III, was released in 1997. He has a keen interest in teaching, having founded a successful Organists' Training Scheme in South Wales, and he has been closely involved in the similar scheme more recently launched in this diocese. He has enjoyed transcribing orchestral and other works for the organ; his compositions and arrangements have been performed at diocesan choirs festivals and at the 2000 Three Choirs Festival in Hereford.
Recent appearances have included being the piano soloist in Hereford Choral Society's performance of Constant Lambert's The Rio Grande, five performances in a week of his own transcription of Prokofiev's Peter and the Wolf for over 1500 schoolchildren, and eleven events in the 2006 Three Choirs Festival at Hereford. In 2005 he recorded a series of short programmes from Germany for BBC Radio 3 exploring Bach's 260-mile journey to Lübeck in 1705, broadcast as part of that network's highly successful A Bach Christmas.